How To Convert VHD to VHDX with Hyper-V 3
Windows Server 2012 and Windows 8 introduce a new virtual hard disk file format, VHDX, which is an upgrade from the current VHD format and provides for superior performance, reliability and several enhancements including:
Support for virtual hard disks larger than 2TB and up to 64TB.
Better performance of dynamic and difference files through new larger block sizes.
Improved alignment of the virtual hard disk on large sector disks.
Many of you already have a virtual infrastructure based on Microsoft Hyper-V and would need to upgrade all your existing VHDs in order to take advantage of all the new features and capabilities. Luckily, The Hyper-V team has taken that into consideration and provided a very simple way to convert existing VHDs into VHDX. Here's how to do it:
Launch Hyper-V manager and from the right side Action pane and select Edit Disk .
The Edit Virtual Hard Disk Wizard starts; click Next to get past the initial screen.
Enter the name and location of the existing VHD file (see Fig. 1) and click Next.


Figure 1. Enter name, location of VHD file and click Next. (Click image to view larger version.)

Select Convert and click Next.
Select the VHDX file format and click Next (see Fig. 2).
Complete the wizard by selecting the settings you need.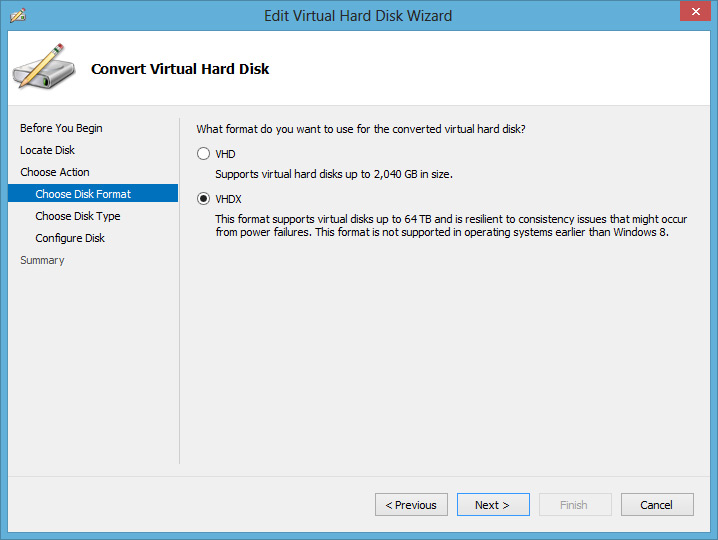 Figure 2. Select VHDX file format and click Next. (Click image to view larger version.)
This process makes an exact copy of your existing VHD file, except now it's in the new VHDX format. And should the need arise, you can always use the same process to convert from VHDX back to VHD.