Man sollte glauben, dass Microsoft etwas dazugelernt hat, seit Exchange 2007, was das exportieren von PST-Dateien angeht, leider nein, darum hier eine Anleitung und Fehlerbehebung bis das Ganze funktioniert.
Zuerst einmal müssen wir das Mailbox-Export CMDlet aktivieren, also für einen User oder Gruppe freischalten.
Wir öffnen die Powershell Konsole am Exchange 2010 Server und tippen folgendes ein für einen User
New-ManagementRoleAssignment –Role "Mailbox Import Export" –User "Administrator"
oder eine Gruppe
New-ManagementRoleAssignment –Role "Mailbox Import Export" –Group "MailboxAccessGroup"
danach sollte das "Export-Mailbox" CMDlet" verfügbar sein, jedoch war das noch lange nicht alles.
Auf dem Exchange 2010 Server muss ein Outlook 2010 x64 installiert werden, nicht wie früher auf einer Remote Maschine, sondern direkt am Mail Server. Was früher ein No-Go von Microsoft war, ist heute Voraussetzung. Nachdem wir Outlook installiert haben, testen wir mal den Befehl.
Export-Mailbox –Identity *USER* –PSTFolderPath *PFAD*
Laut Microsoft solls nun bei allen funktionieren, bei mir, und vielen anderen, tut es das nicht sondern es folgt ein Fehler
Fehler für Admin (Admin@domain.com). Ursache: Fehler im Schritt: Das Objekt wird genehmigt. Unbekannter Fehler., Fehlercode
: -2147221219.
+ CategoryInfo : InvalidOperation: (0:Int32) [Export-Mailbox], RecipientTaskException
+ FullyQualifiedErrorId : E54E4C23,Microsoft.Exchange.Management.RecipientTasks.ExportMailbox
Laut einigen Artikeln, sollte man einen zusätzlichen Microsoft Exchange 2010 Server installieren, einmal die Postfächer verschieben, und das war, is ja ein Klacks.


Hier eine etwas schnellere Lösung.
Startet am DomainController ADSI Edit, öffnet eine Verbindung laut Screenshot
Wechselt laut Screenshot zu eurer Mail DB,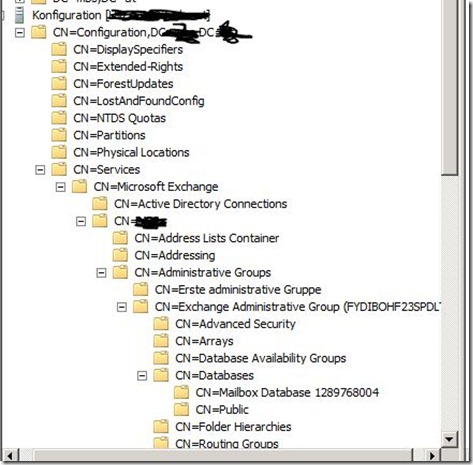 Rechtsklick auf die gewünschte Database, Registerkarte Sicherheit, fügt ihr den "System" Benutzer hinzu und gebt ihm folgende Rechte.
- Read
- Administer information store
- Allow Impersonation to Personal Exchange…
- Create named properties in the information store
- Open mail send queue
- Receive as
- Send as
- View information store status

Danach noch zur Sicherheit den Information Store neu starten, danach sollte euer PST Export ohne Probleme durchlaufen. Im nächste Artikel zeige ich euch wie Ihr das ganze automatisieren könnt, damit alle User in PST Files exportiert werden.
Wenn ihr den Export-Job denoch von einer Remote-Maschine starten wollt, müsst Ihr auf dieser noch die Microsoft Exchange 2010 Verwaltungstools installieren und unbedingt Outlook 2010 x64 auf dem Mail Server